Key scenes from various films dissected and discussed, with photos.
All About Eve (Mankiewicz, 1950)
"So little? So little did you say? Why if there's nothing else, there's...applause!"
A group conversation on a stairway, Margo's drunken entrance and the beginning of a parting of ways.
link
Annie Hall (Allen, 1977)
"If you have a car, so then, why did you say you have a car like you wanted a lift?"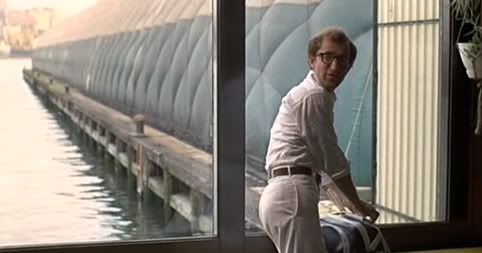 Annie and Alvy - the awkward meet-cute to end all awkward meet-cutes.
link
Atonement (Wright, 2007)
"I finished my play."
Briony at work. And as the film opens we follow her on her trek through the house.
link
Atonement (Wright, 2007)
"You realise this is probably the most valuable thing we own!?"
The sweltering sun, flower fields, cigarettes, sexual tension and broken vases.
link
The Aviator (Scorsese, 2004)
"God, Hollywood talk bores me silly!"
At the Coconut Grove with Howard and Kate. And Errol. And Johnny.
link
Bright Star (Campion, 2009)
"I'm not laughing! Miss Brawne is not laughing."
"There is a holiness to the heart's affection no you nothing of that?" Keats asks Brown. He probably doesn't.
link
Burn After Reading (Coen Brothers, 2008)
"Fuck you, Peck! You're a Mormon, next to you we all have a drinking problem!"
The film opens and Cox gets fired immediately.
link
Changeling (Eastwood, 2008)
"Thirteen steps…thirteen steps…but I didn't touch all of 'em, you bastards…I didn't touch all of 'em."
The child murderer gets executed.
link
Chicago (Marshall, 2002)
"But, I simply cannot do it alone!"
Velma Kelly in an act of desperation.
link
The Curious Case of Benjamin Button (Fincher, 2008)
"I could imagine dancing completely naked…"
Benjamin and Daisy on the patio.
link
Dangerous Liaisons (Frears, 1988)
The wordless opening of the film. Are Valmont and the Marquise the same person?
link
Dead Man Walking (Robbins, 1995)
"I'll be done with all this. No more bars, no more cells, no more life in a cage."
The final moments of Matthew Poncelet's life as he walks to his execution.
link
The Deep Blue Sea (Davies, 2012)
"Crying cockles and mussels, alive, alive, oh!"
A near suicidal Hester remembers darker days in the world; or singing by the train station.
link
An Education (Scherfig, 2009)
"I'm telling you to go to Oxford. No matter what. 'Cause if you don't you'll break my heart."
"So what you're telling me is to be bored, and then bored, and finally bored again, but this time for the rest of my life."
Two scenes of Jenny Mellor opposite the teachers in her life.
link
Eternal Sunshine of the Spotless Mind (Gondry, 2004)
"Constantly talking isn't necessarily communicating."
One of Clementine and Joel's early squabbles is remembered as his mind is erased.
link
Funny Girl (Wyler, 1967)
"You are woman, I am man!"
Watch as Nick seduces Fanny.
link
Hairspray (Shankman, 2007)
"Those poor runners-up might still hold some grudges. They padded their cups, but I screwed the judges!"
The original Miss Baltimore Crabs shows them all how it's done.
link
Harry Potter and the Sorceror's Stone (Columbus, 2001)
"Good luck, Harry Potter."
A dark night on Privet drive and two figures appear from the dark carrying a baby....
link
The Hours (Daldry, 2002)
"What happens when we die?"
A conversation with her sister leads to a rumination on death with her niece for Virginia.
link
Howards End (Ivory, 1992)
"Will you come with me to Howards End?"
An ailing Mrs. Wilcox forges a connection with the sensible Margaret Schlegel.
link
The King's Speech (Hooper, 2010)
"Oh, there's no receptionist. He likes to keep things simple."
The future King and Queen of England make their first visit together to Mr. Logue.
link
The Lion in Winter (Harvey, 1968)
"I've borne six girls, five boys... and thirty one connubial years of you. How am I possible?"
Three sons, a "daughter", a husband and a wife. Conversation with one of history's most dysfunctional families.
link
Mean Girls
(Waters, 2004)
"We should totally just stab Caesar!"
Gretchen Weiners has a meltdown.
link
On the Waterfront (Kazan, 1954)
"Terry I'm frightened. Let's get out of here, please!"
Edie and Terry reunite then discover a dead body.
link
The Philadelphia Story (Cukor, 1940)
"Is it not a handsome day that begins, professor?"
Tracy Lords and Maculay Connor in the most romantic conversation ever had under the influence.
link
Pride and Prejudice (Wright, 2005)
"I am to rejoice in the inferiority of your circumstances?"
Mr. Darcy's terrible first proposal...but beautiful in the rain.
link
Rabbit Hole (Mitchell, 2010)
"Jesus, Howie! I didn't do it on purpose!"
Becca and Howie address all their pent-up resentment towards each other in the wake of their sons death.
link
Revolutionary Road (Mendes, 2008)
"I'm studying to be an actress...."
The film opens at a party they meet on a dance-floor, April and Frank together forever, right?
link
Revolutionary Road (Mendes, 2008)
"You were just some boy who made me laugh at a part once, and now I loathe sight of you."
April and Frank together forever....but, not really.
A Room with a View (Ivory, 1986)
"Two lone females in an unknown city, that's what I call an adventure."
"I want to ask you something that I have never asked before."
Miss Lavish and Miss Bartlett take a stroll in the city and then Cecil and Lucy take a stroll by the stream.
link
Shakespeare in Love (Madden, 1998)
"I would stay asleep my whole life if I could dream myself into a company of players."
Viola and her Nurse discuss
The Two Gentlemen of Verona
.
link
Shampoo (Ashby, 1975)
"Now that's what I call fucking!"
Never have an adulterous rendezvous where the light of a refrigator can give you away.
link
Steel Magnolias (Ross, 1989)
"I'm fine. I'm fine. I'm fine. I'M FINE!"
M'Lynn buries her daughter.
link
Take Shelter (Nichols, 2011)
"There is a storm coming! Like nothing you have ever seen. And not a one of you is prepared for it!"
A town barbeque and Curtis spirals out of control.
link
Titanic (Cameron, 1997)
"Do you want to see me working as a seamstress? Is that what you want?"
Ruth de Witt Bukater is good for severely lacing corsets and pointing her daughter to the right man.
link
West Side Story (Wise and Robbins, 1961)
"I didn't believe hard enough."
Tony dies in Maria's arms.
link