I spent a great deal of the last few days catching up on some blog reading, and what better way to ring in the new year than by pointing you towards some good reading material?
Links ahead.
Remember back in 2009 when I fell head over heels in love with
An Education
? Of course you do, if you were reading this blog back then. Izzet (
DRUNKEN POLTERGEIST
) writes a lovely, detailed article on why it is a film worthy of love.
LINK
Craig (
DARK EYE SOCKET
) like many bloggers has already begun closing the book on cinema 2012 and has a list of his favourite female performances of the year.
LINK
It's a great batch, so it won't send me into a tailspin.
And, who would have thought Greta Gerwig would be so ubiquitous only a few years later?
Andy (
THE FILM EMPORIUM
) reviews the 2010 film,
Greenberg
where Gerwig stars opposite Ben Stiller.
LINK
Can you imagine Violet from
Damsels
having to deal with the eponymous Greenberg?
Nick (
CINEMA ROMANTICO
) is also wrapping and announces his random cinematic awards. I say, good job to any award given to Lizzie Caplan's great work in
Bachelorette
.
LINK
If you follow me on twitter (and, if not, why the hell not?) you'll know I vowed to keep Rachel Weisz on your minds come Oscar season – awards' love or not. So, naturally, I've been generally euphoric at the mentions she's managed. True, an Oscar nomination might be unlikely but I'm just pleased that
The Deep Blue Sea
is being remembered anywhere.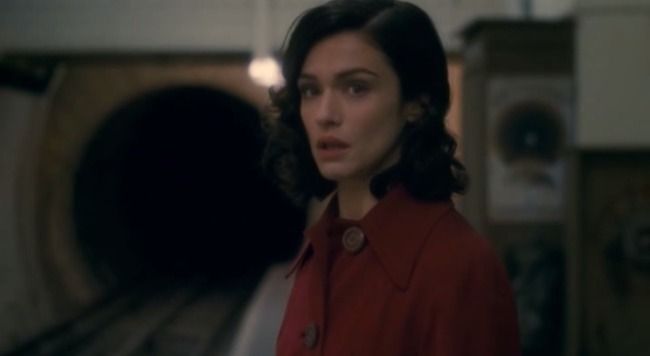 So, of course, I will link to any top 10 list which features it and Andreas (
PUSSY GOES GRRR
)
LINK
and Toby (
BLAH BLAH BLAH GAY
)
LINK
both have it as their #1. I approve.
Ryan (
THE MATINEE
) is taking a look back on 2012 by considering what some of his favourite shots were.
LINK
Usually I tend not to link to reviews of news films, if only because it's so difficult to write a great post on something you've seen just once but I have to link to three reviews of 2012 films.
First, Tim Brayton (
ANTAGONY AND ECSTASY
) has an excellent take on
On the Road
, not only because his thoughts mirror mine (although I like it a little more than he) but it expertly touches on all the exasperating ways the film avoids success. Also, I love the title of the review.
LINK
(
Updated
, and since I'd prefer the only link for Tim be on a film he didn't care for go check out his recently posted top
10
films and notes on 2012 in film
LINK
.)
The other new review I include is not because I agree (I wasn't a big fan of
Lincoln
) but Bill (
THE KIND OF FACE YOU HATE
) writes a great article on why he loves the film. I'm eager to rewatch it now, if only to see how his arguments hold up with a second viewing.
LINK
Finally, Andreas (
PUSSY GOES GRRR
) ponders on what
Holy Motors
is all about touching on some familiar and original thoughts on what Carax is trying to tell us.
LINK
And, two things to close with. Shane (
FILM ACTUALLY
) is hosting an Oscar competition with a real prize and everything. I'd prefer if none of you participated to increase my chance at winning, but I suppose he'd prefer it if you did take part so...knock yourselves out.
LINK
And, finally, I've been a fan of Barbra Streisand for some time and she deserves major props for continuing to do new things as an artist well into her fifth decade as an entertainer. I love this excerpt from an interview where she discusses her star-making duet with Judy Garland when Babs was 21 (!!!) and Judy 41.
LINK
That, "
You wonder, "Well, do I give it up? Do I retire? Or do I get more in before my time is up?
" does make you go hmmm. It'll be a sad day when Streisand's star is no longer burning.
So, there, a modest number of good quality blogs to head over to. Happy reading, and here's to a movie-filled 2013.