May has been an odd month for me in the blogging world. 24 posts for the 31 days is not egregiously offensive, but I can do better, but things haven't been at an optimum level. Here's to changing that.
Incidentally, May did see good things happening on the blog. I took part in Nathaniel's excellent "Hit Me With Your Best Shot" series – picking your favourite shot from films – for
The Exorcist
,
Pariah
and
Raise the Red Lantern
. And, lucky for me Roger Ebert (yes, that
Roger Ebert
) linked to my piece on
Raise the Red Lantern
on twitter (
link
) – so that was a great start to the month. Of course the crazy traffic always makes you feel a bit ill at ease, because I always wonder what the people who are
thinking
. So, thanks again to you excellent folks who've been sharing your opinions. Here are some of my favourites:
"I think that part of what makes your best shot so great is the way it builds and contrasts with the other ones you picked, and I am in love with the arguments you followed getting there. I've seen this movie three times now and still hadn't made some of those connections." via Tim (Antagony and Ecstasy) on Hit Me With Your Best Shot: Raise the Red Lantern.
Of course this was a favourite comment mostly because Tim is such an excellen writer (go read his blog, y'all) and considering how much I fliplfopped on even publishing my
Raise the Red Lantern
article that sort of specific praise is always appreciated.
"And I totally get your quandary about those situations where a film is better as it happens then in retrospect. Like Super 8 for me. As it was happening that movie worked liked gangbuster for me and by the time I'd set one foot in the parking lot I was already realizing everything that was wrong." via Nick (Cinema Romantico) on What a Game, Hunger Games review.
I mentioned in my review that despite liking the film a lot, I liked it more while watching it than I did after. How does one reconcile when the experience during and after is as stark as Nick's scenario, though?
"I just want to begin by saying that The Damned United is one of the best shot movies EVER, so I was kind of disappointed with this movie. But then that's probably the movie's sfumato that got me. Thank you for defending this movie and its symmetry, a quality also shared by TDU. And the floor shots shows how complex the composition lines are." via Paolo (Okinawa Assault, Paraphrased Kulchar) on Scene on a Sunday: The King's Speech.
For one, I love this comment for teaching me a new word (sfumato: The technique of allowing tones and colors to shade gradually into one another, producing softened outlines or hazy forms.) and this was one of my favourite posts to write.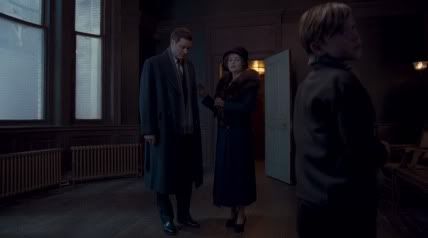 I know, love for
The King's Speech
is strained to nonexistent, but other than an arbitrary response to awards' "injustice" I legitimately don't understand the loathing. And Helena Bonham Carter does so much with so little in the scene and the entire film.
" Funny, I was just thinking about Bright Star recently. Specifically, the scene where Fanny finds out that John is dead ("I can't breathe"). Such good acting. Great post." via Shane (Film Actually) on Scene on a Sunday: Bright Star.
It is always a great day when you find yourself thinking about
Bright Star
and its brilliant performances. Kudos Shane, your brain knows where it's at, even if that scene he mentions is one of the most emotionally devastating movie scenes of the last decades.
"It's no accident these two will YET AGAIN make my top 10 TV shows of the year and it's really because the ensemble is just so well-rounded and well-utilized. With that said, picking an MVP is obviously difficult. Your picks are unimpeachable. So I'll go another direction and pick Christine Baranski and Adam Scott. For guests... Anna Camp and Patricia Clarkson." via Ryan (Sorta That Guy) on The Female Lead and Her Ensemble: Parks and Recreation and The Good Wife.
Ryan knows, my fellow TV lover, is as impressed with the continuous goodness of these two excellent shows. Hopefully Emmy remembers.
I confess, I actually shrieked when I read this comment because it was so perfect. My favourite shot of the film was the mother and daughter bath scene and I completely forgot the importance of baths in
Melancholia
. Wise Jose remembered, though.
Other Significant Benchmarks in May
Coming in June
Reviews from Hysteria to Bel Ami to Chronicle and The Grey and Take this Waltz (all of them overdue, some more than others.)
Scene(s) on a Sunday: Shakspeare in Love, Tinker Tailor Soldier Spy, A Room with a View all of them, one of them. I'm open to suggestions.
My birthday and exams, all at once.
Emmy predictions possibly
A blogging project with some friends
Anything fun you might request in the comments.
Thanks for reading, and thanks for commenting. If I've been remiss in responding, school and work business and general forgetfulness is responsible. See you next month.
Here's to June...how was your May?