It's probably not the actual story, the musical "110 in the Shade" (an underrated score) has a nice enough book so I can only assume the actual production is good. When I look back on it I'm not certain what it is – precisely – that makes this my least favourite film of Kate's, but as soon as the title I knew the film for the task was The Rainmaker.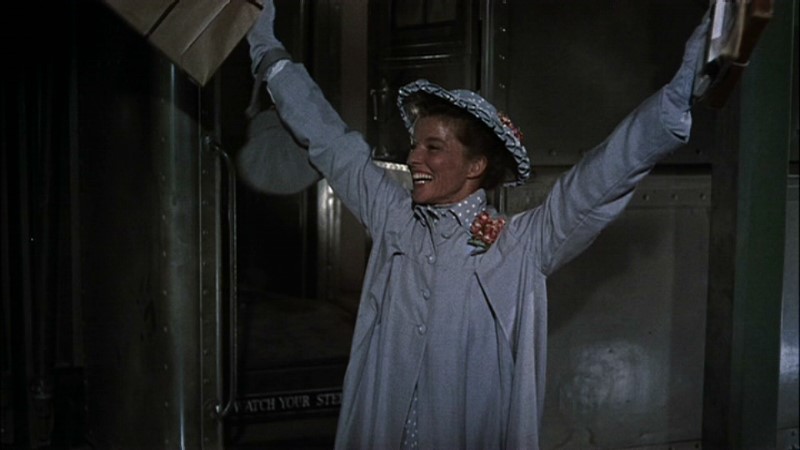 Kate's Lizzie Curry is not the eponymous rainmaker, though it would be correct to call her the protagonist. Lizzie (Lizzie, I stress, not Kate) is a homely spinster – an old maid, if you will. She doesn't seem to have a future in love, and neither does the divorced town sheriff. Her town is the usual nondescript country one, except that it's painfully hot. The rain has not fallen in months. A rainmaker, yes literally, is passing through town and promises rain if he's paid $100. His interest soon diverts from filling the town's literal drought to Lizzie's metaphorical one. Thus, a dilemma arises. Does Lizzie acquiesce to the advances of this potential swindler or does she accept a potentially nondescript, if safe, life?
Really, the The Rainmaker's plot seems like if it'd make for a great film. And the result is NOT disastrous (C+, perhaps even a B-) it's just very tame. I'm resentful, yes indeed, and I'm often moved to put the bulk of the blame on Burt Lancaster. I'm not too fond of him (with Deborah, with Jean, with Elizabeth) and he feels off as the would-be charming Bill. That being said, Kate's wrong for the part. Of her twelve Best Actress nods it's easily her least distinguished (I've said that before). I don't particularly dislike her in the part, it's just sporadic and with the stories of the off-screen drama at work it shows at time. It's not that she can't play standoffish spinsters (hello!) but it just doesn't mesh. God knows why. I've listened extensively to Audra McDonald in a revival of "110 in the Shade", the musical from the show and I still think the story has potential. That could be a good movie…I suppose.
You know
I'm enamoured with Kate
, so the fact that this is my least favourite meeting with her
*
doesn't mean that I wouldn't watch it. Come on, any Kate is good enough for me.
This is all part of the ongoing
MEME
*(Love Story, Kate's final film, stars the power-couple Annette Bening and Warren Beatty. An adaptation of Love Story - which is the inspiration for An Affair to Remember - it's good at times, oftentimes not so good, suffice to say worse than The Rainmaker. At times Kate herself seems embarrassed to be there, but she's playing an extensive cameo at best. It's not her film, so I'm not certain it applies here.)