I was thinking who my next subject would be when a certain sex tape that wasn't hit the internet. It was too easy because I'm constantly asking myself what is this particular woman's appeal – Eva Mendes. In the words of a very badass TV character "She makes me want to set myself on fire." Word. Let the arguments begin.
Prosecution, Exhibit A: Ghost Rider

I read about this
over at FlixChatter
, I vowed never to see it...then I realised I already had. Wish it'd stayed with me NOT remembering it because it's god awful. She plays the female (quasi)-lead and as per normal confuses sultry with trashy or whatever her brand of appeal is. It doesn't help that she's playing against Nicolas Cage at his worst...or thereabouts. Whatever.
Prosecution, Exhibit B: The Women
The Women wasn't very good either. Although I'd argue that Annette tries, tries hard, to rise above the material – it's still embarrassingly underwhelming. In an ensemble of poor things Eva is not the sole one responsible but she's an accessory, a co-conspirator even. Technically, I suppose she is hot but I don't Eva Mendes attractive – it's so odd. Thus, her seduction skills – which essentially means her in tight clothing – as the "spritzer" girl is just embarassingly…well, it's just embarrassing really.
Prosecution, Exhibit C: Hitch
I could hold my general hatred of Will Smith as the main person responsible for the awfulness. That doesn't make me any less impressed with her. It's not that she is horrible, she's fair – she's just not very good. It's arguably one of her largest roles and she just exudes a blandness that's just maddening in an already bland affair...
Prosecution, Exhibit D: 2 Fast 2 Furious
I don't find it any worse (or better) than the original Fast & the Furious, but with Eva Mendes as the female lead it seems like a definite demotion of sorts. It doesn't help that the movie is completely forgettable. I've seen it more than once and I can't remember what it's about (yes, street racing, but what else). I have to think to remember Mendes....and I suppose it's better than her being so horrible I think about it for days (see above); but then again failed to launch? Ummm, yeah.

Defence, Exhibit A: Training Day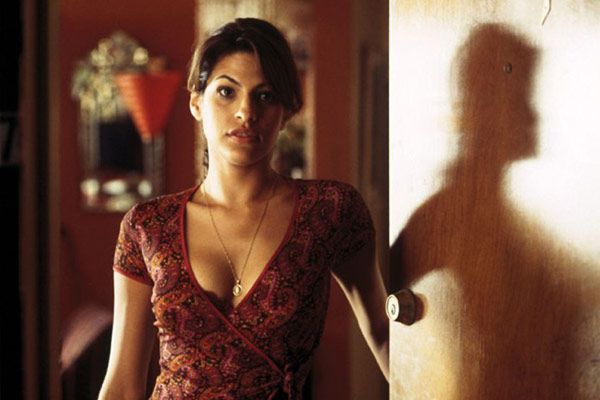 I'd go as far as to say that I found Eva to be fine in Training Day. Is it because her role was almost miniscule? Is it because Ethan Hawke and Denzel Washington are delivering brilliant performances, perhaps it's the fact that Fuqua seems really on the mark here. Whatever it is, I don't cringe when she appears. I believe her performance, I'm even moves. The fact that this was before most of her films makes me think it was probably a fluke.
Don't go easy on her because she's the first woman I've featured. Guilty? Innocent? Make your arguments.
Previously