This question puzzled me. Characters die on TV but often they're guest stars or recurring characters, unless it's
Lost
or
24
deaths don't come that often. I have touched on two sad deaths over the months,
Denny's in
Grey's Anatomy
and
Rex's in Desperate Housewives
. It made me realise that what was sad was not the actual death but the reactions of the characters. I decided I'd focus on a character I'd never liked that much, but on what I consider to be one of the strongest representations of death in a television show.
The death in question was that of Joyce Summers in "The Body"; the show – Buffy the Vampire Slayer.
Buffy comes home one night to find her mother dead and the rest of the episode continues in a sombre, dismal tone. Whedon realises that death doesn't always bring people together – it tears them apart and it's seeing the reactions of the characters that make this episode less about Joyce's death and more of death in general. I always remember Anya, a demon turned human, asking frantically "What am I supposed to do?"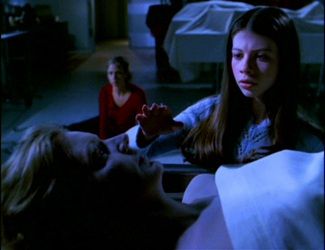 What are we supposed to do when someone dies? Buffy just draws deeper into herself…
This is the last
MEME
post, I shall be back with a recap...but for now
"I'm free! We're free! We're free!"
Extra points if you know which play ends with that line.