Crime drama procedurals are really a dime a dozen. Yet, when I think of show that more people should pay attention to I can't help but gravitate to a particular show about a police from Georgia who arrives in Los Angeles to deal with crime head on. The Closer is a show that grew from one I liked to one I can't help but love and considering that it's "merely" a crime drama, you may wonder...what makes it worth seeing? Good question. Two words - Kyra Sedgwick.
At this moment Ms. Sedgwick has earned four consecutive nominations for Best Actress in A Drama at the Emmy's. She had the misfortune to lose to Mariska Hargitay of
that dreaded crime show
in her first year - a year where she was head and shoulders above the competition. Sedgwick has continued turning out excellent performances, but I'm unsure who's watching. Still the vieweriship of 5ML per season is not horrible, but it deserves better because
The Closer
is more than just a run of the mill show focusing on crimes week after week. It fails to fall into the trap that so many procedurals do.
The Closer
has a cast of "people" and not "types".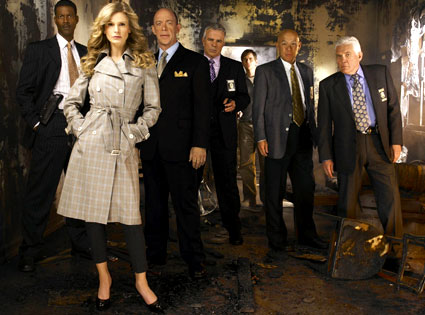 Week after week the show's main cast are more interesting than the guests and that's what makes The Closer special. It's supposed to be like that. We're invested in the machinations of Brenda and Fritz. We like to see her fighting with J.K. Simmons' perfectly played Assistant Chief Pope. Sometimes it seems The Closer even forgets that its a crime procedural and not a straight drama - and it's all for the better. I don't know if Kyra will ever get that Emmy it deserves, I don't know if this upcoming sixth season will be its last. But I do know that I love The Closer, and chances are you might too.
This entry is part of my ongoing meme on TV Moments