This was a tough one, but not for the obvious reasons. I don't believe in guilty so I don't think I have any guilt from pleasure but I suppose Gossip Girl would fit the bill. The thing is, I've not been watching this since last year May so I have no idea what's going on at the moment – but I shall pay it some respect nonetheless.
The thing about Gossip Girl is it's the type of show you would expect to be horrible, perhaps even cringe worthy. Really, the idea of teenagers running around New York behaving like people twice their ages is not exactly smart or inspired. Yet, Gossip Girl (even with a name that reeks of such flippancy) manages to attain levels of wisdom and to procure altitudes of talent in its actors that always surprise me. If there's one thing that displeases me about the show, it's its inconsistency. Not merely how tone shift from episode but how the cast's talent rather unevenly decided. I haven't seen him in anything but I have to loathe Penn Badgeley's talent as an "actor" and Chace Crawford is someone who just stands their doing the best impression of bland he can pull of (and he always wins). If it were not for the smidgen of good I saw in her in The Private Lives of Pippa Lee I'd doubt Blake Lively (who has, for reasons beyond me, turned into the "it" girl of the show). Pretty she is, a shining talent she is not – especially on this show where she plays her character one-note that just happens to be the most annoying note on the acting spectrum – "desperation".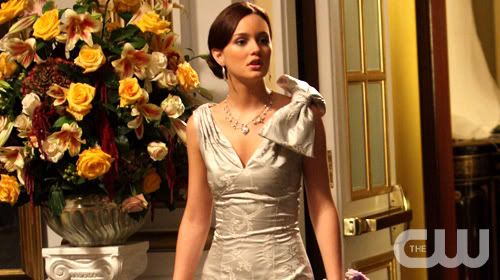 I don't feel unoriginal in placing my appreciation for the show (youth wise) on the heads of Ed Westick and Leighton Meester. I don't know if it comes from their characters having the most shades of the grey, or if the writers are aware that they've struck gold with these creations (well, at CW's level anyway) and just milk them for all they've got while forgetting their peers. Whatever it is, Meester and Westick shine in their role – not always as bright as I would like. But if there's one thing they have that is a prerequisite for a good career, it's their ability to draw you in – no matter how bad – into their performances.
Kelly Rutherford does a good job of the old-but-young mother and Margaret Collin is quite fun at times as the stifling one. I'm still usually bored by Matthew Settle but not as bored as I am with Badgeley who plays his son or Taylor Momesn who plays his daughter…but I'm over talking. I don't feel any guilt watching it (just annoyed when they forget what they have the unavoidable misstep). It's not the TV for the Ages, but it does a good job of pretending to be now and then.
Another entry in the TV Meme that continues to go on...
(LATE AGAIN)