I love seeing sibling machinations on the screen. There's something decidedly charming in seeing sturdy bouts of filial love and especially when that bond is between sister and sister. It's something that pits actress against actress and often results in good performances all around. So today we're catering to the ladies - But what makes a good sisterly pairing? Well, obviously, they have to love each other – that's a bit of prerequisite, so of course no inclusions of those
Dubois women
…few sisterly pairing are as true, and loving as these five that follow – well, I can't think of any…
The Dashwoods
There are really three Dashwood sisters in Sense & Sensibility, but only two of them get descriptive adjectives to their name. Sure, Emma Thompson's age acts against the very reason for Austen's title, but she's a good enough actress to overcome whatever her age cannot. Sure, sometimes Marianne comes off as undeserving of her sister's patience, but they do look out for each other. Like a clever diversion on a piano to prevent the embarrassment of Elinor and the dedication Elinor in turn pays to a sick Marianne. Dedication to sisterhood.
The Magraths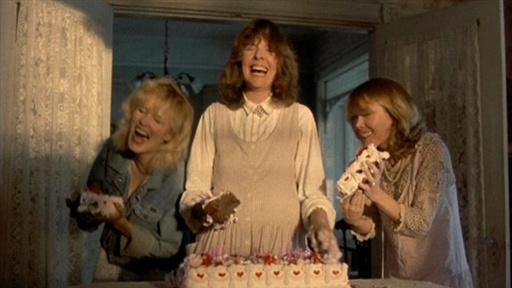 Crimes of the Heart is such a forgotten one, but with Diane Keaton, Jessica Lange and Sissy Spaceck I remember it. A sister of Best Actress Oscar winners, what can be better? Sure one of them is washed up, one's suicidal and one's "never been kissed" but the chemistry these three women have make me wonder this film isn't more remembered.
Ms. Jane Bennet, Ms. Elizabeth Bennett, Ms. Mary Bennett, Ms. Lydia Bennett and Ms. Kitty Bennett
It's one thing ensuring two sisters match the truth of an Austen novel, but it's so much more difficult when it's five. How does Joe Wright accomplish it? Well Mary is the odd one out, and is often alone. Eliza and Jane gravitate to each other as do Lydia and Kitty so we have the older pair and the younger pair. But, even more, moments when they must combine are just as honest. The film's beginning with the five of them, and their fishwife mother, haranguing their father about Miss Bingley is handled nicely. Yes, the strongest moments of the film come when Rosamund and Keira interact – they are so very lovely together. But Wright tries to make each one have their moment, and for the most part, he succeeds.
The March Girls
Of course this list cannot be made without some incarnation of the March sisters. Meg, Jo, Beth and Amy are memorable characters of literature and cinema and the 1932 incarnation is the most memorable. Kate stars as a role that seems tailor made for her - that of the irrepressible Jo. Joan Bennett, Jean Parker and Frances Dee round out the foursome as Amy, Beth and Meg. It's a pity none of the actresses went on to fame other than Kate, and it's a pity that the fair but uninspired 1994 version is remembered more. Still, the March Girls are the epitome of sisterly affection.
The Schlegel Girls
Howards End is a delight, and more than anything else the reason for its beauty lies in the chemistry between Helena Bonham Carter and Emma Thompson. Sure, they have a brother, but Tibby is incidental. It's weird, considering the future controversy between these two women and a certain Shakespeare fanatic, but the bond these two seem to share is striking. Sure, halfway through the film they part ways, temporarily, but it doesn't make the bond tenuous, they're reunited at the end because the Schlegel girls know something about familial ties. It's a unity that Ivory handles wonderfully. They are as different as night and day and of course this is why they're so necessary to each other.
Which actress pairing convince you most of their sisterly bond?