I feel a sense of excitement when an actor I've admired gives a piercingly atypical performance that causes me to reassess their talents. It doesn't happen too often, and it's especially difficult to do when you're successful in a particular niche. Then, there's always possibility that it won't be well received. I don't know if the problem with this entry was its lack of support, but for some reason it's become forgotten. Pity – it's a treasure.
Not to be broken record, but I really hate the way that Brad Pitt's acting talent continue to be ignored. I remember in 2007 when he won at the Venice Film Festival (even though I hadn't seen the film yet) I was praying that he'd finally get the recognition he deserved, but alas that didn't turn out as it was supposed to.The Assassination of Jesse James did go on to moderate success with the award ceremonies, but like with so many other films critics and awards seemed only to have seen one performance of the film: Casey Affleck and failed to notice Brad's performance. Casey Affleck was excellent as Robert Ford, and I won't get into the alleged category fraud. However, it's Brad who impresses me most in it. It's a performance that towers above Pitt's others, even though he has done good work before and after. Time after time, whenever I watch this film it's a performance I cannot forget.
The Assassination of Jesse James
is a film that finds its glory in the smallest of things. It's not being gratuitous, but it simply thrives in the details. As the film opens with the the narration and the montage of James and we watch a strangely sombre Brad walk through the fields we already notice the difference, the sort of genteelness but the hint of something more sinister below. In retrospect, I suppose James is not as flashy a character as critics would like, but in a way Brad here reminds me of Warren Beatty in
Bugsy
. We know that
Bugsy
is a gangster, but there's that shocking moment where we see him take part in violence after we've already been charmed by him. It's the same with Brad - not only the altercation on the train but later in the film when he turns on the young boy at the barn. It catches the audience off guard and the quickness with which he switches from "gregarious" to deadly is chilling. Pitt doesn't play Jesse quite as ostentatiously reckless as legend would have it, but there's a look in his eyes as we moves through his scenes...there's more than just emptiness beneath them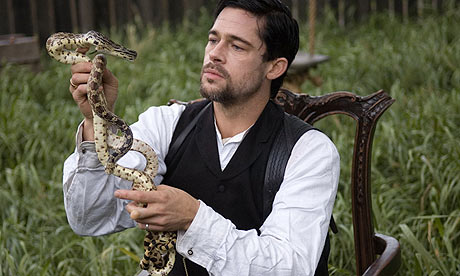 The latter half of
The Assassination of Jesse James
is not unlike the story of a man spiralling out of control. The scene where he "jokingly" attempts to slit Bob's throat is excellently played by Pitt. And as he prepares for his assassination there is that look on Brad's face that suggests so much more. As he listens to his daughter recite the poem and he takes off his guns something seems to change in him, as if he's preparing himself for what he knows to come. True, he leaves the film with twenty five minutes to spare - but I believe Pitt's performance to be an indelible part of
The Assassination of Jesse James By the Coward Robert Ford
.
What were your thoughts on Pitt's Jesse James?Worthy of recognition? Does it rank among the best work he's done?