Comedy. It's become a loaded word when we thing of critics, and award ceremonies and all that jazz. I'll be honest, drama is my thing. Still, I do like a good comedy performance as much as the next guy. I just don't like slapstick. For me, comedy constitutes more than the tritely humour we've become accustomed to, and in some ways I suppose there is little hilarity to be found in this entry. It is the final entry though, I've been covering the women who impressed me most this past decade and in many ways this was a no-brainer. I feel no sense of reluctance to call it my favourite of the last decade, and it is also my favourite comedic performance of the last decade.
#1 Joan Allen in The Upside of Anger (2005)
It's one of those prosaic rules to film – when we see an actor drinking alone and watching television we know they're a drunk. It's the same with Terry Ann Wolfmeyer. Her husband has disappeared with his wallet and passport one morning; he was being released from his job in the near future and the Swedish secretary he's been eyeballing just happened to have left the country at the same time he disappears. Terry knows she's been left. She's not whiner, and she's not a softie. She is direct, abrasive, grounded…in fact – she's a bit of a bitch. For better or worse. Sure, her daughter Popeye tells us that she used to be the nicest woman in the neighbourhood. We don't care about that, because we can't be certain that that's true. Terry is a woman good and angry.
Each time I watch this film I realise more and more how evenly spread the narrative is. The first time I watched my memory was of Joan only and it's not until much later I realised that the film is not completely focused on her Terry as she would have you believed – but that's to her credit. The film is diverting, but imperfect. Still, when the screen catches her Joan commands it and turns it into brilliance. There's a scene in the middle of the film that's not really as good as Joan makes it. Her daughter Hadley is graduating from college and breaks the news of her pregnancy and imminent wedding. Terry is – of course – aghast. She's even more incensed that the groom's parents have been ecstatic about the news for some time. "How long have they been ecstatic," she asks her daughter who seeks to evade the question. "DAMN YOU, HADLEY! HOW LONG HAVE THEY BEEN ECSTATIC?" Off the top of my head, this is somewhere among my favourite line readings of the decade. Joan is completely in touch with the woman she plays and as Terry storms through an embarrassing engagement party of sorts we never miss the chance to empathise with this woman even when she's at her most shrewish.
It's like the way she approaches the relationship with Denny. We can almost see Terry close up every time the stakes get high and Denny implies something more than just cheap, meaningless (drunken) sex. It's one of the things that Joan is excellent at, actually. She is fully capable of giving us a fully nuanced performance even when she says nothing. I love her line readings to death, but she doesn't need them to be excellent. There's the scene where the camera pans around the dinner table in a circle and Terry imagines her daughter's boyfriend's head blowing up, her response is an eerie smile. It's an excellent response for Terry from Joan, so true and yet so funny and she never milks it too much even when it seems a tad too ridiculous – the incoherent mutterings she utters as she sees her teenage daughter in bed with a man a few years her junior. Then, there's the glibness of her expression and the coolness of her voice as she utter lines like – "I'll be in the kitchen finishing dinner. Maybe you can come in and help me. Who knows? You may get there in time to pull my head out of the oven."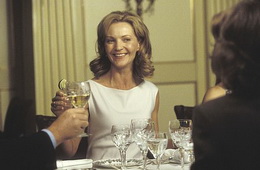 I like The Upside of Anger way more than I should. It depends on a twist that really has no business being there, but yet I find that it works so well. I should take this moment to point out that the entire cast is excellent – Alicia Witt, Erika Christensen, Keri Russel, Evan Rachel Wood, Mike Bender (the writer and director) and an understated Kevin Costner. Joan plays off each of them excellently but even then, we don't care because the film belongs to her and her alone. In fact – the entire decade does, as far as I'm concerned. It's a performance like no other.
How surprised are you at my choice? But more importantly – did Joan impress you in The Upside of Anger?