I've always been more than a little fond of Roald Dahl, even when I was young and thought his name on the books were typographical errors. He's one of the most inventive writers for children –and adults – and it's not difficult to see why his films have often been adapted for the screen. Last year Wes Anderson's wonderfully smart
Fantastic Mr. Fox
was a hit and we've seen two good adaptations of
Charlie & the Chocolate Factory
– but the greatest adaptation of a Dahl film is one that is often taken for granted, it's also one of the most ingenious animated flicks I've ever seen. A masterpiece in my opinion was 1996's
James & the Giant Peach
.
James is an orphan who lives with his two hideous aunts – in nature, and in looks and when a peach in the garden grows to unbelievable proportions he experiences a wealth of magical incidents in it along with a troupe of quirky and endearing animals. I have vivid memories of seeing this as a child and if you thought Selick's
Coraline
was quirky and mystifying then you should see
James & the Giant Peach
. The world of the peach is both alluring and terrifying. It's a true feast for the eyes, clichéd yes, but accurate. And like all works of animation, the voice work is an essential. Susan Sarandon's enigmatic Spider remains as a favourite of mine, it's animated to perfection and her charming voice only amplifies the mystery of the peach, Miriam Margolyes and Richard Dreyfuss also turn in notably good (voice)work.
The story is, I suppose, the usual coming of age film. James is a beleagured child and his (sometimes dormant) thirst for a change is understandable and moving in its own way. Much like Coraline it takes an otherworldy experience for the child to "find" himself, though this is certain not a cautionary tale. Thematically James & the Giant Peach is difficult to pin down. I can't be certain what message it is that Burton and Selick (or Dahl for that matter) want us to leave with. But the important of "messages" has become too much. James & the Giant Peach offers a fresh look and childhood with some incredibly witty dialogue.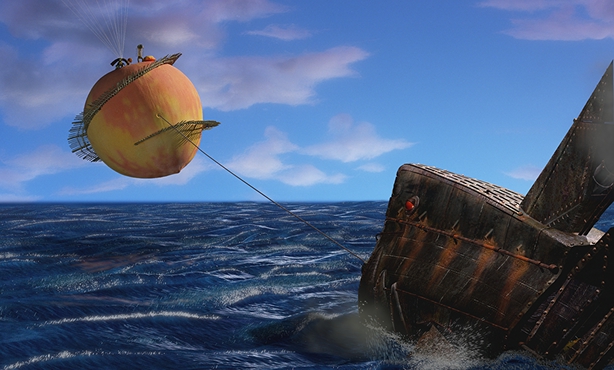 Selick is a connoisseur of children's cinema and he is notorious for blending the dark with the youthful. This interpretation of James & the Giant Peach is a quintessential example of childhood. It seems bizarre on the more superficial of levels, but beneath the repulsive slugs and bugs and underneath the obvious idiocy of a travelling peach there is a whole lot of heart in this story and luckily Selick was able to translate that to the screen intact. This film would be a wonder to any child, and as we grow older and it all comes into perspective we realise that it's also a wonderfully insightful film that's for the child in each of us. It's the #52 on my list of favourites.