DON'T FORGET TO PLAY THE GAME!
I've seen the last three films I needed to before I began my year end awards. I've not written reviews for
Away We Go
or
The Imaginarium of Dr. Parnassus
– chances are I won't, in fact the three films identified in the title won't exactly be properly here, even though two of them deserve mellifluous words. Still, it would be remiss of me not to at least mention them even though they are quite different.
Crazy Heart
gives us the second coming of Jeff Bridges, or so I've heard. It's the third significant time that an actor is going all musical on us. Jamie Foxx won his Oscar for it and Bridges will probably follow suit, but my favourite of the lot is the unsung Joaquin Phoenix for his real blooded
Johnny Cash
. It's strange since Bridges' has the chance here to create something new, his character is his creation after all. He's fine, good even, but I wondered why I felt unmoved for so much of his journey since he has the most chance to move me, unlike Whishaw and Firth who must play vignettes.
The chemistry exists between Bridges and Gyllenhaal but they seem so comfortable I don't even feel that they're trying. Crazy Heart is passable; it doesn't do anything exceptional, even though I felt it wanted to. In the end it just all felt a bit too artificial, this strikes me as ironic since of the three films it's the one that tries to be the grungiest, from the costumes to the drawls and the script. Much has been said about the bauble like qualities of Ford's A Single Man. It's not perfect, that I will say, and I didn't fall (completely) in love with it. Nonetheless, it's a good film with a fine performance from Colin Firth. Still, A Single Man reaches its most poignant when Julianne Moore comes on screen. It's one of the best performances of the best performances of the last year even though it's easy to ignore it. It seems like standard Julianne, though it's not. Her Charley's wild abandonment with George is only sadder when we see the longing in her eyes that we need not question. She doesn't get served up a plum role like so many women did last year. Her performance depends on her eyes as does Ben Whishaw's John Keats. It's an atypical male performance that unfortunately has gone unnoticed, but I'm not surprised. Audiences often fall into the trap of ignoring reactionary performances like this. But Whishaw's Keats is a revelation abd absolutely perfect. Cornish's active Fanny Brawne is a thing of beauty, I can't ignore her striking facial similarities to Nicole Kidman and her quiet line readings are so wonderful when juxtaposed with the moving amber in her eyes. This is her story, and not Keats and she gets the most emotional moment as she finds out Keats death. It is arguably the saddest moment of the last film year and Cornish shines, but she shines brightest when she blushes and smiles imperceptible with Whishaw.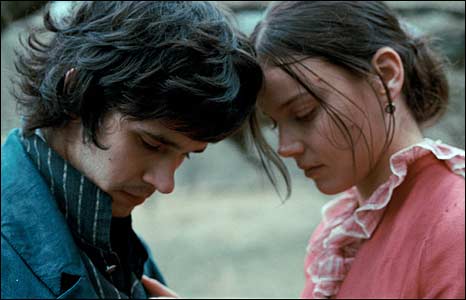 It's interesting that of the three Crazy Heart is the one most remembered in this time of awards praise. But then, it has the most typical female role – the woman behind the man, confident but never assertive. She is not Moore's nonconforming Charley or Cornish's modern Fanny. Crazy Heart, forgive me, plays up to the usual thematic elements that some audiences find it so easy to revert to. No surprise that Maggie Gyllenhaal's turn has gained laurels, it being one of her lesser performances.
It's obvious that Campion's piece is my favourite then Ford's stylistic narrative and the Bridges' star vehicle as my least favourite. Strangely, grading isn't even that difficult because it's easy as A, B, C, in that order.