Sunday is going to be a big day; but not for the reason you think. Sure, it's the
Golden Globes
and what not, but I'm so blase about the Oscar race and whatnot. Did you even hear
the results of the BFCA
? What did you think? Mo'Nique, Waltz, Streep [and Bullock], Bridges. Granted I haven't seen
Crazy Heart
yet, but it's still generic. Sure Mo'Nique and Waltz are fine, but...I don't know whatever. Moving on...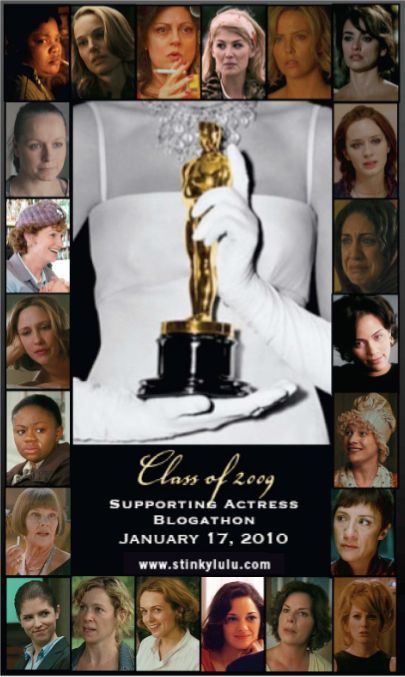 I've been digressing, but Sunday is a big day because Stinkyluli is hosting his
Fourth Supporting Actress Blog-a-thon
. I told you about this already and I fear that you thought I was merely jesting when I
ordered
you to participate. Well,
I was not
. Seriously, I wasn't. You still have about a day to write up a few words, lines or pages [asking too much?] on a Supporting Actress of your choice. It's been a good year for the Supporting Women, even though precursors are only noticing a few don't let them fool you.
Just look at my banner
.
Walter
finally
saw
Avatar
. And I
think he loves it
... Do you agree with him?
Univarn gets retrospective on us and broods over
not getting the appeal of some films,
despite their critical and commerical success. Interesting thought, I know I missed the bus when it came to
Up In the Air
and
The Hangover
, and having just watched
Precious
for a second time I'm seriously re-thinking that B I gave it. I think I did give it too much. Sigh.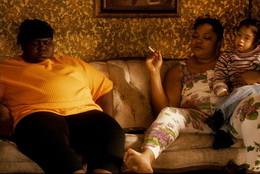 Nathaniel, Nick and Mike offer up another
look at two Best Picture winners
; this time
Silence of the
and
Going My Way
. Neither would have been my pick that year. What about you?
And finally, rememeber that
Kreativ Post
. Well two more wonderful people have singled me out for it. I'm no Meryl Streep and acceptance speeches don't come to me that easily. I'll probably pull a Hepburn and stay home to avoid the pressure. Still, it would be incredibly remiss of me not to point the way to
Danny
and
Nicholas
. The former I've been reading for months and the latter I feel like a douche for not reading more often. They're both worthy of your time.
Well, la de da. That's the end.