I'm still on that somewhat foolhardy quest to watch as many films as I can before the end of this month when I'll start recapping the last year in film. So here are three more, somewhat overdue, reviews. Will either of them make a change to the Encore Award Nominations? Peut-etre.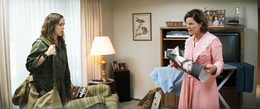 Surprisingly, quite entertaining with good blends of drama and comedy. In a year of female directors it's a pity that Drew couldn't have gotten just a LITTLE more love. It seems like an ideal Golden Globe nominee for musical or comedy. Ellen Page is better here than in Juno, and that's a bigger compliment than it seems. The film is actually casted to almost glorious perfection, which I was not quite expecting. But of course, the consummate supporting actress of them all steamrolls the entire cast even when she doesn't try. It's Marcia Gay Harden for the win. Yep. B

Damn, this is one bleak film. Clocking in at just below 90 minutes I don't know why more people haven't seen it. Of course it's pretty grim. But it's not as unnerving as previews would have you think. Viggo Mortenson is as usual excellent, perhaps his best ever – perhaps. The atmosphere is so palpably apocalyptic and Kodi Smith-McPhee is something of a revelation. But the person who deserves much praise is Charlize Theron who fades away before half an hour but is exceptional in her bit role. Is it too late to start a campaign for her and Mortenson? B

We see Amy Adams as an adult again; it's been some time. It's easy to place it as a trifling bauble but it has a whole lot of heart in it and does well what it has. It gets a bit of uncertain somewhere towards the middle but it's able to pull it off, even though it could have been just a tighter. Still, it's a pleasant piece and Alan Arkin is a charm to watch as is Emily Blunt who needs to get a significant role pronto. In the end I like it. And you'll probably like it. B-

So which have you seen? What did you think?