I'm a Woody Allen fan. I won't mince words about. Certainly, he's not for all – but he's probably my favourite comedic auteur. But Whatever Works presented a puzzle for me. Not only in reviewing it, but in watching it. It was a good Woody Allen film while being a bad Woody Allen. film I can look at it and understand the bad reviews it has been given, but I can also look at it some things; perhaps not wonderful but certainly enjoyable. So it's quite a conundrum.
Boris is a neurotic genius, not exactly a new thing to Woody Allen films. The film examines his experiences when he takes a stray girl from the South soon to be joined by her ridiculously dysfunctional family. The film examines the hilarities that ensue when they coincide with Boris' life. It's ostensibly the typical Woody film; but yet it's not. I racked my brains, wondering if I'd not be able to put my finger on it. Then it became obvious – Larry David. I'm neither here nor their when it comes to Curb Your Enthusiasm, and this is no reflection on David's ability as an actor. However he was horrifically miscast as Boris.
Woody is getting old and it's probably time for him to hang up the hat as far as acting goes, but I couldn't help feeling he'd be the perfect fit for Boris ten years ago. Or what of Alan Alda? In addition to being an exceptional actor, Alda can play a mean character with traces of sympathy. I don't know if it's him or if his interpretation of the character was amiss but I felt nothing for him. There's a scene towards the end. Evan Rachel Wood's Melody is leaving Boris. As she tries to break it gently to him he gives a series of sad but funny lines. It's supposed to be pithy and funny, but David's delivery gave me nothing. I don't know if it's me only, but he just didn't work for me. The first twenty minutes particularly depend on him and thus those first twenty minutes are horribly weak for me. But it gets better.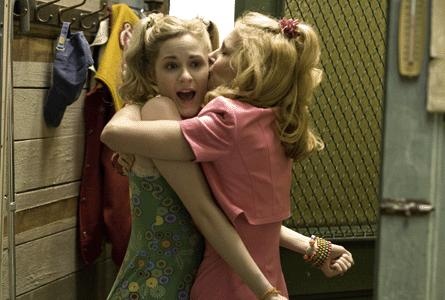 Evan Rachel Wood is a fine actress. She's not exceptional but she's good. Her country accent may be schmaltzy a bit at first, but she doesn't overdo and I found her so enchanting at times. As has become a stalwart in Woody recently the film doesn't really develop until that pivotal character enters. Penelope Cruz came in halfway through Vicky Cristina Barcelona and Scarlett comes in a little earlier in Match Point, but both films take a turn [generally for the better] with both women. This time Patricia Clarkson is that pivotal character. Playing Melody's mother it's even a fuller character than she played to perfection in Pieces of April. And she's great. I hesitate to say exceptional, but she's great. The supporting cast all are great in spots, and really the chemistry though not earth shattering is pleasant.
Whatever Works is a film that Woody Allen's fans will like, but I'm not sure if he'll win new fans with it. It's not as aware of itself as Vicky Cristina Barcelona, not as consistently witty as Match Point, it's not even as unselfconscious as Scoop. But it's good. It may be remiss of me to blame David for the failures, but that's how I see it. I'm bordering on B-, but the film really is pleasant. It may be subject to change but right now I think it's better than that. Maybe.