The other day, my friend, admonished me for not having enough TV in my Encore World. And he's right, actually. I haven't done any substantial work on TV other than few dismal Emmy posts. I'm not back in it 100% as far as TV loving goes but I'm dedicated this to list to what I'm looking forward on TV next season.
#9 -
Cougar Town

/

The Middle
Hopefully Courteney Cox does good work on this if not I'm sure Patricia Heaton won't disappoint. Why do I think ABC is invincible? I have no idea. It's not like they haven't totally effed me up before...
# 8 –
Glenn Close aka

Damages
Do I really need to explain this? Glenn Close being a major bitch. Ummm what is else is there to see. I want to be there when she crashes and burns.
# 7 –
The Good Wife
Why do I think this is going to be good? CBS has disappointed me too often and yet I keep coming back. Maybe it's because they took over
Medium
that I have newfound faith in them. Maybe it's because Julianna Marguiles is one of the few things I ever really loved about
E.R.
Maybe it's because I want to see if Chris Noth can be anyone but Mr. Big. I don't know. Whatever it is, they actually have me thinking that maybe, just maybe, this won't be a suck fest.
# 6 –
Jane Krakowski
I'd have put Jane Krakowski and the cast of
30 Rock
, but I don't really care about the cast of
30 Rock
. I don't even care about the actual story on
30 Rock
. Once Jane has a nice, juicy part I don't care. I see only Jane… only Jane.
# 5
Marcia Cross and the rest of the

Desperate Housewives
I'm treading carefully when it comes to
Desperate Housewives
lately. Teri Hatcher continues to annoy the shit out of me, but I'm still there. I wonder if Neal McDonough is going to be back… Will they give Dana Delaney a back bone? And now with Edie gone is Wisteria Lane going to become a slut free neighbourhood? That seems wrong.
# 4 –
Glee
I'm very anxious as to how this venture is going to turn out. And then I heard a rumour that the darling Kristin Chenoweth is going to be guest starring which will be fantabulous if it's true, seeing that she's out of employment and all… still Kristin Chenoweth or no Kristin Chenoweth this looks good and I'm anxiously anticipating.
# 3 –
The Office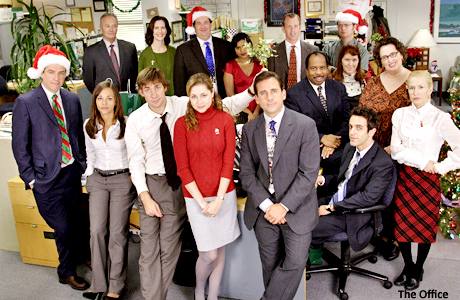 Yay! Bring back
The Office
. I doubt my beloved Amy Ryan will be back but I sincerely miss those folks at Dunder Mifflin. I wonder when Pam is going to pop [out her baby I mean], how and if Dwight and Michael will make up, if they'll give the hilarious Kelly any more screen time. What the hell is going to happen to Ryan now that he's been demoted.? Again. Will he dye his hair back? I just can't wait for the best comedy on TV to return.
# 2 –
Leighton Meester and

Gossip Girl
Aah. Teenage angst. What's more enticing? Leighton Meester is quickly becoming my favourite actress under 25, all that's left for her to do is make a movie w
hich I hear she might be doing soon
. So there. other than her and Westick, though, the cast of
Gossip Girl
generally bores me. still, teenagers who think they're adults. It's been done before but not half as good. I'm in.
# 1 –
Justin Chambers, Katherine Heigl and

Grey's Anatomy
Say what you want, but I love
Grey's Anatomy
. Right now, it's my favourite show on TV and with the cliffhanger [not quite] that was the season five finale I can't wait to see how they resolve it. Chambers and Heigl have been my favourites on
Grey's Anatomy
since the beginning and Ellen Pompeo has been doing some of her best work since the Second Season. But now I hear that she's pregnant and going on maternity leave which is something of a bummer. Hopefully they'll have some more screen time for Sara Ramirez who I find very appealing. We'll see what happens. I'm all in.
I wonder how the hell I'm going to keep up with these shows when school stars. Sigh...