It really is difficult making a list of your favourite films, especially when it's a hundred of your all time favourites. I'm feeling a little nostalgic though and I want to give you a look at four films that are not in my top 100 of Personal Picks but are good nevertheless. If you haven't seen them as yet [and shame, shame, shame if you haven't] go and see them. And if you have seen them, look at them again. Or not.
Elizabeth (1998)
– Cate Blanchett, Joseph Fiennes, Geoffrey Rush
[B+]
This movie was the first Cate Blanchett film I saw, at the time I didn't know who she was – I didn't even know the name of the movie. I've always been interested in Queen Elizabeth I, and I don't need to say that Cate was outstanding in the role – but I will anyway. This is my favourite film – big screen or small – on Queen Elizabeth. Of course quite a few liberties were taken with the plot, but that's film for you. This is actually one of the reasons that it's not higher on the list – then of course there was that sequel... But we'll not speak of that, either.
Why You Should Watch
– I'd recommend this film for anyone who wants to see where Cate Blanchett started. It was her first major screen role and she earned her first Golden Globe (and Oscar nomination) for it. It also features good performances by Geoffrey Rush and Joseph Fiennes. And it's just a really good film. The script is nice, but it's not indulgent like recent films like this have been (
The Duchess
, comes to mind). Indian Director Shekhar Kapur does a good job in managing the cast, and of course the costumes and art direction are worthy of mention.
Favourite Scene
– A few come to mind, but my favourite is the ever popular one where Cate rips her subjects a new one with her whole I am no man Elizabeth's speech. Total immersion of character and though I loved her in Bandits and The Lord of the Rings, it wasn't until The Missing that I didn't think Cate Blanchett was a cold hard bitch. Love her though. Absolutely love her.
Jerry Maguire (1996)
- directed Cameron Crowe
[A-]
I'm not really a fan of Cameron Crowe. He's a good director, and his movies are good – I mean,
Almost Famous
was a well made movie – but it won't be on my list of favourites. I have absolutely no desire in seeing it again, which is essentially what makes a film a favourite.
Jerry Maguire
is my favourite Crow film; it's a really good film and features Tom Cruise at his best (says me). Renée Zellweger is not bad either.
Why it's Good
– Scripts are important to any film, but I always feel that in romantic comedies it's a make or break situation– and the script here was terrific. Who can forget the legendary – you had me at hello? Not me. I still can't believe this film made it to the Oscar top 5 though, but I didn't mind. This is probably the only movie I liked Cuba Gooding Jr. in; okay this and As Good As it Gets, but I don't really like that movie generally (Helen Hunt – I blame you!). Who can forget –
show me the money!
Priceless. This movie also has Regina King in one of her earlier roles. Wasn't she to become a breakout star in 2004? What with
Ray
and all that? Casualties of Hollywood, I suppose.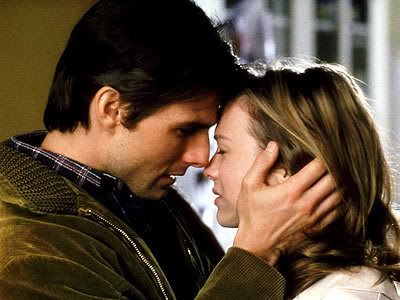 Favourite Scene
– Weird, but I like the scene where he gets fired. And how poor little Ms. Zellweger is the only one who'll go with him. It's sad and funny all wrapped in one delightful scene.
The Ten Commandments (1956)
- Anne Baxter, Charlton Heston, Yul Brynner
[A]
They show this movie EVERY Easter on TV in Guyana. I have probably seen this movie like 50 times. What a cast Charlton Heston, Yul Brynner and the delicious Anne Baxter. I used to have such a crush on her Nefretiri – how demented is that? Who the hell am I kidding? I have such a huge crush on her. It's quite long, but if you haven't seen this because you were under some stone for the whole of your life, take a look. It's a good movie, somewhat romanticised, but isn't that why we love it?
Why it's worth It
– I never saw
Around the World in Eighty Days
, but I am certain it was no where as good as this film. Snubbed for the Best Picture win it did win the Award for Special Effects though. Why wasn't any of the cast nominated for this? I can't remember what the lineup looked like that year, but the three top stars all gave Award worthy performances. Of course all three HAVE Oscars and strangely enough Anne Baxter is the only one playing a different role than usual. Heston and Brynner just played variations of Moses and Rameses in The King & I, and Ben-Hur. But it's all good. They're classic film stars, so they're forgiven.
Favourite Scenes – God, there's so many. I have three. I love the final Anne Baxter scene – do you hear laughter Rameses? – that line gets every single time. She was just a major bitch, but she has a heart as we saw in the scene where she begged Moses to spare her child. Good acting. And the scene where she begs Moses to spare her son is beautifully done. She is a great actress but in a time when Hollywood was wrought with vampish Brunettes she sort of got overlooked. Oh well, she'll always be Eve Harrington/
Favourite unimportant scene – the one where the seven sisters find Moses in the well, it's just so sweet and nice. Funny – but not hilarious.
Well there you have it. Three films to revel in. They're all good to varying degress and I do love them all. But which ones do you really love. which ones do you just hate. What's your favourite scene. Come on shout it out,