These are the sites you need to go over to pronto! :)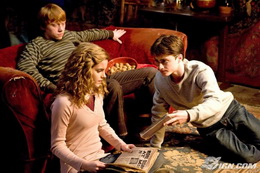 Seeing that I'm sort of coming down from my
Harry Potter
high, here are some reviews of the latest installment.
Rasco Ledger
gives a nice look at it
Emma loves it
[unsurprising]
Nathaniel is positive
Tommy Salami does not like it
Jose hates it
Anahita does an interview with

moi

over at her blog
God, I am really loquacious.
Movie Mania offers up his thoughts about

Shampoo
Remember
Shampoo
, back in the 70s when Warren Beatty was everybody's golden boy? When the ladies of
Nashville
lost in that surprise win to that scene stealer from
Shampoo
? Here's a nice walk down memory lane.
Alex gives a look at the 1992 Oscar race
One of the most boring 90s Best Actress race. But this was the year of Emma Thompson and her delightful turn in
Howards End
. So enjoy.
Nathaniel loves

500 Days of Summer
I refuse to look at the vodcast until I see the movie! But maybe you want to watch, or maybe you already saw it. Nathaniel's vodcast's are always cool.
In Contention have a new review of

Julia & Julia
Oh, dear more Meryl Streep. Will she or won't she? That seems to be the going question as to her possibility of an Oscar nomination. Since she tied [and surpassed] my beloved Katharine's record I just want her to
stop making movies
. This looks fun though...