And now the final actress in what we know as the best friend/maid role.
Alfre Woodard in Cross Creek
There's Mary Steenburgen, there's Rip Torn and there's Alfre Woodard… what's not to like?
Cross Creek
is probably one of the most thematically clichéd Oscar bait movie. Woman wants to
start a new life, woman moves to secluded area, woman can't handle area, woman makes friend with servant, servant's life is interesting,
&etc. What makes
Cross Creek
more than just a generic Oscar fare is the performances. Oscar winner Mary Steenburgen gives a strong performance as Marjorie Rawlings. Unfairly looked over, she deserved an Oscar nomination. Rip Torn is also good (as usual) in his role as Marsh, and Alfre Woodard earned her sole Oscar nomination for her role as Geechee, Rawling's servant. I think that Alfre is one of the best black actresses of her generation and even though this role bears resemblance to her performance in
Passion Fish
(for which she should have been nominated) I like it, and am a fan.
As I mentioned earlier, the plot for
Cross Creek
is rather generic, and there is no character that seems more generic (on paper) than Geechee. Apparently the character is based on a composite of maids that Rawlings had over they years. The role reads like any stock best friend/black ally role, but Alfre totally elevated the role and give a strong performance earning a well deserved Oscar nomination. In terms of good acting I always like the scene where Geechee is trying to convinve Rawlings to give her a job. We know that Geechee is not as stupid as she's pretending to be, the scene itself is nothing grand, but it's good seeing Alfre show her chops, she's good with the comic and the drama of the film and it really it's my favourite performance of the film. Of all the five supporting women of 1983 Alfre seems to approach her role with the most gusto, of course that could be an occupational hazard because of the type of character Geechee is, but I don't know. She just seems really submerged in the character. Imagine that this performance is over half a century old and although is not at the peak of her career as an actress we see signs of the multiple Emmy winner that she was to become.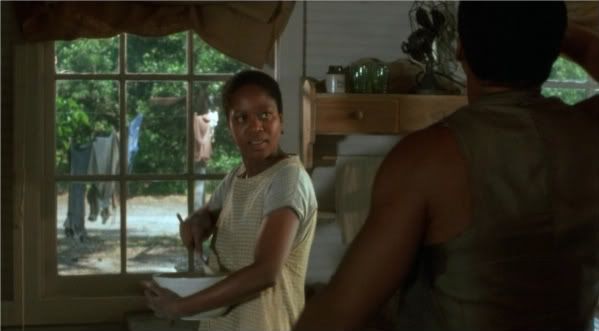 Cross Creek
itself is a good movie. It didn't reinvent the wheel or anything like that, but it's a good biopic in the traditional sense and it features some great performances
I find it abhorrent that there are no good pictures of Alfre in this role on line. I had to get this from Stinkylulu